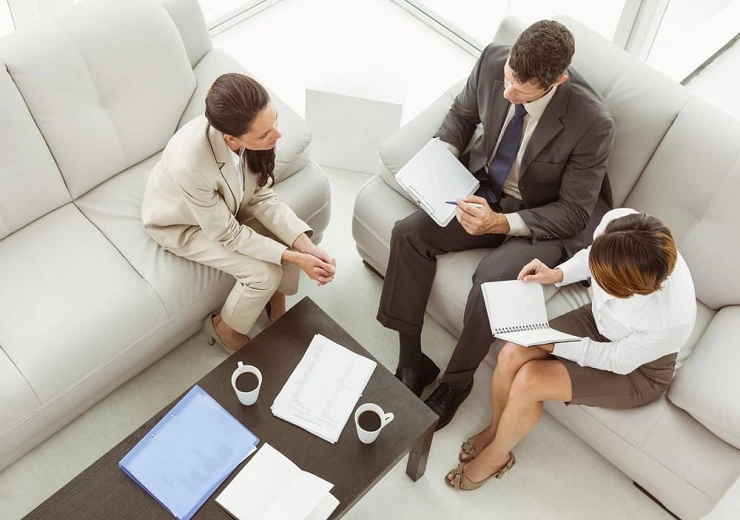 Welcome to Dublin, Ireland – a vibrant city known for its rich history, stunning architecture, and thriving financial sector. If you're in search of sound financial advice and guidance, you've come to the right place. Choosing the right Financial Advisor in Dublin, Ireland is crucial for achieving your monetary goals and securing your future. With so many options available in Dublin, it can be overwhelming to find the perfect fit. But fear not! 
In this blog post, we will explore the key factors to consider when selecting a financial advisor in Dublin, Ireland. Whether you are seeking retirement planning services or wealth management solutions, we have got you covered! So let's dive in and discover how to make an informed decision that will set you on a path towards financial success!
Role of a Financial Advisor – Advice & Planning Experts
When it comes to managing your finances, the role of a financial advisor is invaluable. These professionals are experts in their field and provide personalized guidance tailored to your unique financial situation. A financial advisor's primary objective is to help you make informed decisions about your money by analyzing your current assets, liabilities, income, and expenses.
One key aspect of a financial advisor's role is creating a comprehensive financial plan that aligns with your goals and objectives. They will assess your risk tolerance and develop strategies that maximize returns while minimizing potential losses. This includes providing advice on investment options such as stocks, bonds, mutual funds, or real estate.
Another crucial responsibility of a financial advisor is retirement planning. They will work closely with you to determine how much money you need for retirement based on factors like lifestyle preferences and projected expenses. Additionally, they can advise on tax-efficient savings vehicles like Individual Retirement Accounts (IRAs) or employer-sponsored retirement plans.
Furthermore, a proficient financial advisor offers wealth management services aimed at growing and safeguarding your assets over time. From diversifying investments to implementing tax-saving strategies, they ensure that every decision aligns with your long-term goals.
How to Find a Financial Advisor in Dublin, Ireland
Searching for a financial advisor in Dublin, Ireland? It's important to find someone who can meet your specific needs and help you achieve your financial goals. But with so many options out there, how do you narrow it down and choose the right one for you?
One way to start is by asking for recommendations from friends, family, or colleagues who have used a financial advisor in the past. Their personal experiences can provide valuable insights and help steer you in the right direction.
Another option is to utilize online resources such as directories and review websites. These platforms often feature customer reviews and ratings that can give you an idea of what to expect from different advisors.
Once you've compiled a list of potential candidates, it's time to do some research. Look into their qualifications, certifications, and areas of expertise. A professional designation like Certified Financial Planner (CFP) indicates that they have met rigorous standards of education and experience.
Consider meeting with multiple advisors before making a decision. This will allow you to compare their approach, communication style, and fees. Remember that trust is key when working with a financial advisor – make sure you feel comfortable discussing your finances with them.
Asking specific questions during these meetings can also help gauge if they're the right fit for your needs. Inquire about their investment philosophy, fee structure, track record of success, and how they prioritize client relationships.
Finding the right financial advisor may take some time and effort but investing this upfront will pay off in the long run. With their guidance and expertise on your side,you'll be well-equipped to navigate complex financial decisions while working towards achieving your goals!
Key Factors to Consider When Choosing a Wealth Management Services Dublin
When it comes to choosing a financial advisor in Dublin, Ireland, there are several key factors that you need to consider. These factors will help ensure that you find the right advisor who can meet your specific needs and goals.
First and foremost, it's important to look for a financial advisor who is experienced and knowledgeable in the field. They should have a solid understanding of various financial strategies and be able to provide sound advice based on their expertise.
Another factor to consider is the advisor's reputation and track record. Take the time to research their background, read client testimonials or reviews, and inquire about any awards or certifications they may have received. This will give you an idea of how reliable and trustworthy they are.
Additionally, consider whether the financial advisor specializes in areas that align with your own financial goals. For example, if you're looking for retirement planning services or wealth management assistance, seek out advisors who have expertise in these areas.
It's also essential to determine how the advisor is compensated. Some advisors work on a commission basis while others charge fees based on assets under management. Understanding this aspect will help you assess whether their compensation structure aligns with your preferences.
Don't underestimate the importance of personal rapport when selecting a financial advisor. You'll want someone whom you feel comfortable discussing sensitive financial matters with and someone who communicates clearly and effectively.
Questions to Ask a Potential Financial Advisor
When it comes to choosing the right Financial Advisor in Dublin, Ireland, asking the right questions is essential. These questions will help you determine if a potential advisor is the best fit for your needs and goals. Here are some key questions to consider:
What services do you offer?
It's important to understand the range of services that a financial advisor provides. Are they specialized in retirement planning or wealth management? Knowing their expertise can help ensure they align with your specific needs.
What are your credentials and experience?
Find out about their qualifications, certifications, and years of experience in the industry. This information will give you confidence in their ability to handle your finances effectively.
How do you charge for your services?
Financial advisors may have different fee structures – some charge a flat fee, while others work on commission or a percentage of assets under management (AUM). Understanding how they charge ensures transparency and helps avoid any surprises down the line.
How often will we communicate?
Communication is key when working with a financial advisor. Ask about their preferred method of communication (in-person meetings, phone calls, emails) and how frequently they typically engage with clients.
Can you provide references from current clients?
Requesting references allows you to get feedback from other individuals who have worked with the advisor firsthand. Positive testimonials can give you peace of mind knowing that others have had positive experiences.
Will I be working directly with you or someone else on your team?
Some financial advisors work as part of a team where responsibilities may be divided among members. Clarify whether you'll be primarily working directly with them or if there will be involvement from other team members.
Remember, finding the right financial advisor requires careful consideration and due diligence on your part as well! By asking these questions upfront, you'll gain valuable insights into an advisor's expertise and suitability for helping meet your financial goals without any ambiguity surrounding fees or services.
Conclusion – Expert Financial Advice Ireland
Choosing the right financial advisor in Dublin, Ireland is a crucial decision that can have a significant impact on your financial future. By understanding the role of a financial advisor and considering key factors such as qualifications, experience, fees, and communication style, you can make an informed choice.
Remember to take the time to research potential advisors and ask important questions during your initial consultations. This will help you gauge their expertise and determine if they are the right fit for your specific needs.
Whether you're looking for retirement planning advice, wealth management services, or personalized financial guidance, finding a knowledgeable and trustworthy advisor is essential. By following these key considerations and asking relevant questions along the way, you'll be well on your way to securing your financial peace of mind.
So don't delay – start exploring your options today! With the assistance of a skilled financial planner in Dublin, Ireland like Money Maximising Advisors, you'll be better equipped to navigate through life's fiscal challenges with confidence!
Make sure to book an appointment with one of them soon – it's never too early to start taking control of your finances and building towards a secure future. Remember: Your money matters!
Talk to us at +353 91 393 125
Mail us at: [email protected]
Or visit our office at Unit 3, Office 6, Liosban Business Park, Tuam Rd, Galway, Ireland
Read Also – Cracking the Code: What You Need to Know About Mortgage Advisors in Cork, Ireland| Best Mortgage Broker Cork 2023 Ultimate Guide